Salvia elegans (Pineapple Sage)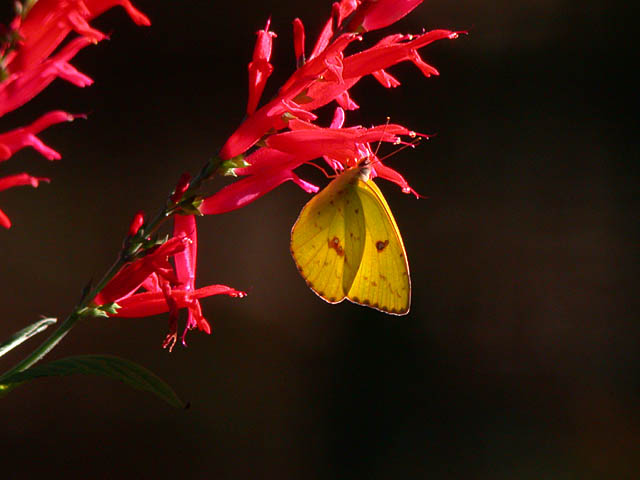 This large Salvia with fragrant leaves (slightly reminescent of the scent of pineapple) produces masses of bright red hummingbird and butterfly attracting flowers in late fall. One of the best hummingbird plants. The usual cultivar 'Scarlet Pineapple' has scarlet blooms in October-December, after Ruby-throated Hummers leave, but it did attract a Rufous Hummingbird in Chapel Hill and the only NC record of Anna's Hummingbird in Charlotte. The compact cultivar 'Honey Melon' starts blooming in mid-July, but has much smaller flowers. Marginally hardy here in zone 7 - in my experience, about 1 in 4 plants survive the winter. Well worth growing as an annual.
Zone 7b, Sun/Semi-shade, Mesic, 1-3', red, summer/fall, native to Mexico.
The one at left attracted a Cloudless Sulphur and also a rare Broad-billed Hummingbird, which I just missed photographing.
Craven Co., NC 10/12/01